Via Scoop.it – Mapping Social Network Unionism Worldwide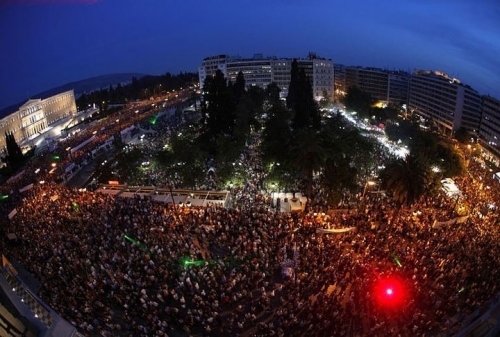 Last night saw the largest demonstration of 'indignant' Greeks so far, with some reporting as many as 500.000 protesters on a completely packed Syntagma square.
Pictures courtesy of Zougla.gr
In the ongoing Greek drama, yesterday potentially marked a watershed. On the weekend after the Papandreou government agreed to a second round of tax increases, draconian austerity measures and an unprecedented fire-sale of state assets, the Greek 'indignant' movement swelled to its largest numbers yet.
Hundreds of thousands of outraged Greeks were reported to have converged upon a packed Constitution square. The indignants, who were inspired by theSpanish protests and who consistently refuse to be associated with any political party, labor union or ideological movement, have now been protesting against the EU/IMF-imposed austerity measures and a corrupted and out-of-touch political elite for 13 consecutive days.
Some activists, including the 'Indignants at Syntagma' Facebook group that initiated the protests, claimed that over half a million people were present at the mass demonstration. The square was literally bursting with people as even its access roads entirely filled up. Hundreds, if not thousands of protesters are reported to be camped out in front of Parliament, as the movement is staging another major protest for tonight (watch three different live streams here!).
Remarkably, the unprecedented mass protests have been largely ignored by the Greek and international media. The peaceful nature of the popular uprising apparently doesn't provide the splashy type of headlines and bloody pictures that corporate newspapers apparently require to sell their worthless reports to a disinterested world population. Nonetheless, the protests are sending a powerful message to the country's politicians, the EU and IMF nonetheless.
Socialist backbenchers have already begun to press for Papandreou to hold a public audit on the nation's debt, as the successful Debtocracy documentary demanded, while an IMF spokesman was forced to express his meaningless 'understanding' for the protesters. Despite a lack of interest by the mainstream media, the roar of the indignants at Syntagma is becoming increasingly impossible to ignore. The 'indignants' have pledged to continue their protests until the government reacts to the movement.