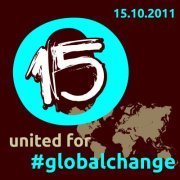 OPEN LETTER TO TRADE UNION MOVEMENT, PROGRESSIVE NGOS AND OTHER FORCES IN EUROPE AND ELSEWHERE
Dear friends, comrades,
Thousands of angry, indignant people who come from different walks of life and who stayed silent for a long time against the injustice had enough now. They decided to rise up against the elite rule.
Despite effective corporate media blocake on 17 September, Wall Street Occupation and other important actions and occupations in Europe -Paris Bastille & London- and other continents that were organised by indignant movement proved the potential of self 
organised ordinary people. On the same date in Wroclaw Poland, European trade union movement mobilised to protest the gathering of the EU finance ministers. Unfortunately the power of the elite media could manage silence these mobilisations and this decreased the total impact of both mobilisations.
The indignant ones now are united and heading towards capital cities like Brussels, London and Washington, to peacefully occupy public spaces around the date 15 October, they call it the day of global change, World Revolution.
The target is, as usual after Tahrir, not only protesting unjustified and criminal acts of state and corporate financial dictatorship, the ?elite? behind those institutions, and their class warfare towards the poor and ordinary people. It is also targeted to build permanent structures and assemblies which will constantly and transnationally collaborate with each other in formulating people?s alternatives to the unjust, undemocratic, destructive and selfish elite rule.
At this moment in history, we urgently need trade union movement and progressive NGOs to step up, synchronise mobilisations as ATTAC and Italian network for the WSF have done, and support in any way the rising movemen, without trying to own or lead such uprising which belongs to none of us, but each one of us!
Please encourage your union centres, branches, officials, experts, reps, rank and file members, or funders, networks, activists to give all possible support to the indignant movement towards 15 October in Europe, in US and elsewhere.
Join the movement if you can, organise your mobilisation, occupy financial centres, cities of capital together with other indignants! Be one of them, be part of one of the people?s assemblies. Lets write our own laws and by-pass the elitist structures.
If we could convince our comrades particularly involved in public service unions who could help us to provide free transportation for the indignants who want to join protests and Tahrir like democracy camps, only this would be a great contribution for a better future for all!
Please join forces for real democracy, now! Do not let corporate or state elite silence us any more!
In solidairty!
GAIA ? Global Alliance for Immediate Alteration
http://www.facebook.com/pages/GAIA-Global-Alliance-for-Immediate-Alteration/153324248063506
http://openfsm.net/projects/gaia/summary