See on Scoop.it – ANOTHER WORLD NOW! – GLOBAL SPRING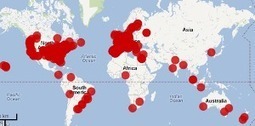 This is a Call for the second Occupy the WSF Meeting
WHAT
World Social Forum 2013 will take place in Monastir, Tunisia in March 2013.
http://www.ong-ngo.org/en/the-2013-world-social-forum-will-take-place-in-tunis-march-23rd-to-28th/
This Forum will provide a strategic location for discussion of the issues of most concern to us. Tunisia has become a symbolic center for the global movement, as the ArabSpring was born there. March would be a proper time to gather and exchange with other movements and networks that have flourished in the North African regions and the Arab World. This forum will serve as a meeting place for those involved in local Occupations, assemblies, and mobilizations in other parts oft he world during 2011 and 2012. We can build and strengthen the links between existing networks around the Mediterranean region and globally and e can strategies May and October joint-actions. We can practice our methodologies, as we did in Firenze 10+10, while communicating and sharing our new knowledge and tool kits with those outside these movements.
See on takethesquare.net