See on Scoop.it – Another World Now!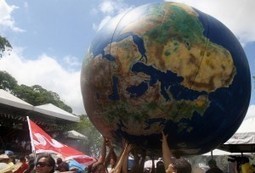 GAIA: Global Alliance for Immediate Alteration's insight:
The modern paradigm may still seem insurmountable "because it possesses an outward front, the work of a long past, but is in reality an edifice crumbling to ruin and destined to fall in at the first storm." – Gustave Le Bon, The Crowd: A Study of the Popular Mind
The decentralized movement toward freedom is raging across the world. It cannot be stopped. The tipping point is near. Despite the lack of coverage in the mainstream media, actions are springing up on an increasing basis. A wave of transformation is rising. The zeitgeist is shifting in our direction.
See on interoccupy.net